The dates for the Tournament 2022 are set and we are pleased to invite your club to participate in our International AAA/AA Tournament to be held in Riga (Latvia).

PARTICIPATION FEE & DATES: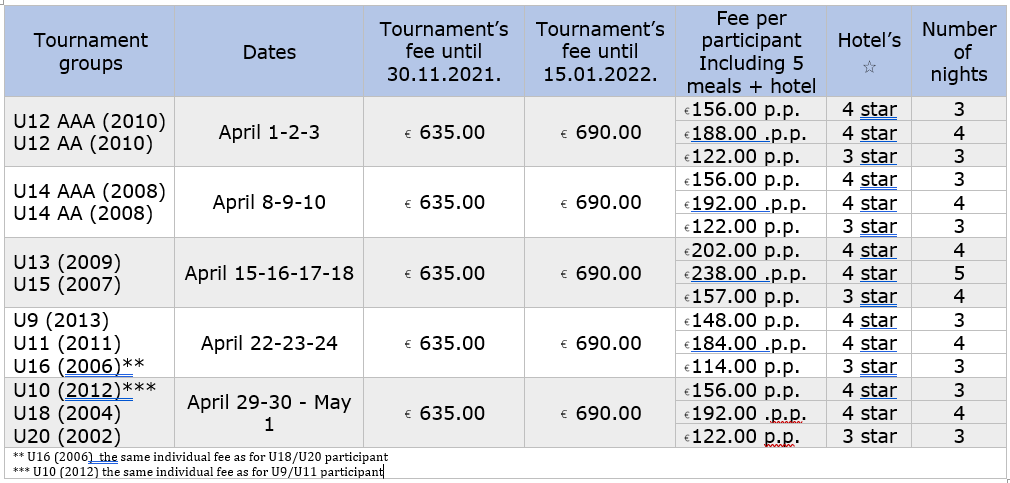 INCLUDED:
4 nights accommodation in hotel Radisson Blu Daugava /Bellevue Park Hotel including breakfast buffet (or a similar 4 star hotel when Radisson Blu Daugava or Bellevue Park hotel is fully booked) based on a double room (Single room: + (plus) Euro 26,00 per room per night)

Lunch and dinner at the ice rink on Friday and Saturday and lunch on Sunday – 5 warm meals

Tourist tax 1 euro per night per person

Personal attention for each player

EXCLUDED:
meals on Thursday

dinner on Sunday

insurance, transportation and travel expenses
EXCEPTION:
U13/U15 is including 5 nights and also dinner on Sunday and lunch on Monday
ADDITIONAL INFORMATION:
All tournaments will start at Friday at approx. 08.00 hrs.

All tournaments will be finished on Sunday (U13/U15 on Monday) around 19.00 hrs.

Teams are expected to arrive on Thursday.

Return trip by ferry or plane should be planned not before 21.30 hrs on Sunday (U13/U15 on Monday).

All teams must have copies of passports available during all their games.

Schedules for the tournaments will be published in official website www.rhc.lv at least 21 days before the tournament commences.

Teams must take care of their own health, travel insurance and Covid regulations according CDC suggestions

Minimum number of games 7 (U13/U15: 8 games minimum)

The number of teams in each group is limited
HOW TO APPLY:
Down payment, you should transfer a deposit of Euro 400.00 per team according received invoice from organizers (no exception can be made). All payments must be made by bank transfer. All transfer costs must be paid by the team. Teams who fail to pay the deposit by bank will not be guaranteed a place in the tournament.
When your team has been accepted, the tournament fee will be charged together (plus) with the charge for each player/coach. The balance (tournament fee minus the deposit fee of Euro 400.00 plus fee per player/coach plus all additional services) will be called in for in February 2022.
Payments must be made to:


"RIGA CUP EVENTS" SIA
Reg. Nr. 40203079105
Address:Uzvaras bulvāris 10, Rīga, Latvia, LV-1048
IBAN code: LV33HABA0551043656504
SWIFT code: HABALV22
Please mention: Invoice Nr. RHC-21/111…
When payment will be received, the team will be published in the official web page: rhc.lv, and team leader will get access to our online platform. Login and password will be sent on team's leader email.

Teams who will not be among the participants will get their Euro 400.00 back. When cancellations are made after your team has been accepted in the tournament no refund can be given on the deposit.
First closure date for the tournament will be November 30, 2021. Second closure date (if required) will be January 15, 2022.
PARENTS:
Parents can stay in the same hotel as players and coaches if required but can also be booked in one of our other partner hotels.

TRANSPORTATION:
We also arrange transportation for your personal needs during your stay.
One-way transfer cost 85 Euro, we offer 47-53 sets busses.

Private buss rent 345 Euro per day.
ARENAS:
The tournament will take place in several new and modern arenas –Daugava arena, Volvo arena, Inbox Halle, Kurbads Halle, OZO Halle (Ozolnieki), Zemgales Halle (Jelgava), Mogo Ledus Halle, Mārupe Ledus Halle. Other Arenas might be used if necessary.
REFEREES:
We also request participating clubs to bring 1 or 2 high level referees, but this is not mandatory. Referees are offered free accommodation (based on arrival on Thursday and departure on Monday and on sharing a double room including breakfast in 4 star hotel Bellevue Park) as well lunch and dinner on Friday, Saturday and lunch on Sunday at the arena. Travel costs will be on their own expenses. No further payments will be made.
For any further information please feel free to contact me.

SIA "Riga Cup Events" chairmen of the board
Jānis Jansons
E-mail: Janis.Jansons@rhc.lv
Mobile phone: +371 26378360
We are looking forward to see you in Riga!